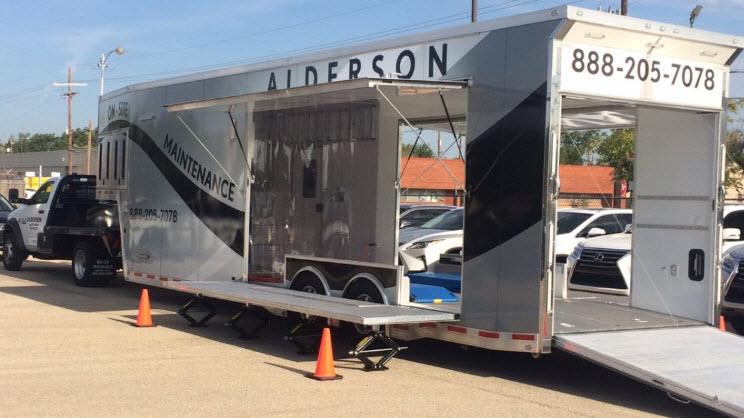 Take Advantage of Alderson Lexus's Mobile Lexus Service
At Alderson Lexus, we strive to make everything as easy and convenient as possible for our customers in Lubbock and Amarillo. Drivers from Midland, Odessa and surrounding communities now don't need to go far for excellent Lexus service.
We're proud to introduce our Mobile Service option, where the Alderson Lexus service team comes to you. Our service trailer is equipped with the machinery and technology needed in order to take care of any service your Lexus needs. It offers a full-service lift, an area for tools and parts, and a Wi-Fi hotspot that allows our technicians to communicate with Lexus USA and our team in Lubbock.
WHAT TYPE OF LEXUS SERVICE DO YOU OFFER IN MIDLAND?
Customers from Midland and Odessa can opt to schedule services like oil changes, tire rotations, front-end alignments, fluid flushes and more with our Lexus Mobile Service option.
Our 45-foot service trailer comes to Midland once a week, and setting up an appointment is easy. Drivers throughout Amarillo, Odessa and beyond can schedule a service appointment with our Mobile Service team by calling us at 806-763-8045, ext. 1.
Our 45-foot service trailer is equipped with:

A full-service lift.
An area for tools and parts.
Wi-Fi hotspot so our mechanics can communicate with both Lexus USA and with Alderson Lexus back in Lubbock.
Air conditioning and heating so while we are working on your vehicle and finishing paperwork, you are protected from the elements.
THIS IS LEXUS SERVICE, REINVENTED.

Our mobile service trailer comes to Midland once a week, and we'd be glad to set up an appointment. Typically the trailer is parked in the Market Street parking lot for the day, which means that Alderson Lexus is now just around the corner for Lexus owners in Midland. 
Give us a call at 806-763-8045, ext. 1 to schedule an appointment. Major maintenance at 30k, 60k, and 90k miles still needs to be performed at the dealership because there is so much more involved with a major maintenance.
However, any maintenance that falls at 5k, 10k, 15k, 20k, 25k, 35k, 40k, 45k, 50k, 55k, 65k, 70k, 75k, 80k, 85k, 95k, 100k can be performed on the mobile trailer.
Our goal is to ALWAYS be your convenient Lexus service center, whether you come to us or we come to you. This is just one more way Alderson strives to be the leading luxury car dealership in West Texas.
WATCH THIS VIDEO TO LEARN MORE
. Just call us and ask when we will be back in Midland. We will be happy to help you set up an appointment.