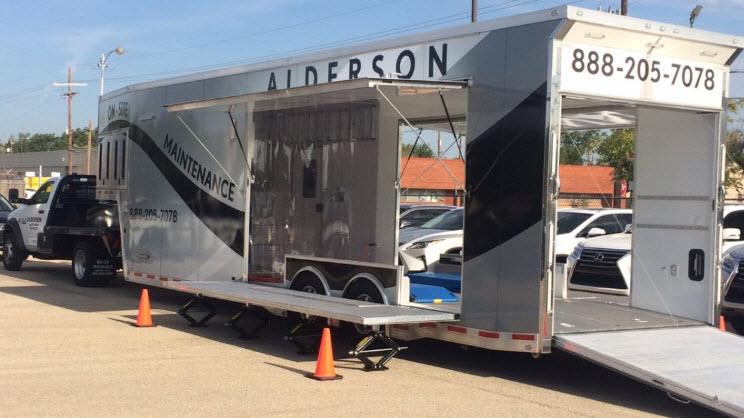 INTRODUCING OUR MOBILE LEXUS SERVICE CENTER FOR WEST TEXAS
Instead of having to drive to Lubbock for your car maintenance, you can now have us work on your car in Midland.
"What a great idea," you might say. Well, it all started when we wondered how we could better serve our customers who don't live in Lubbock.

That led to a collaboration between our owner David Alderson and Troy Tucker, Alderson General Manager. They contacted a custom trailer company, told them about their idea, and voilà: our Lexus service trailer became a reality.

In fact, this idea was so innovative that Lexus asked Alderson to pilot the program for the entire nation. Now you can be one of the first to benefit.
WHAT TYPE OF LEXUS SERVICE DO YOU OFFER IN MIDLAND?
Just like when you come to our Lexus service center in Lubbock, our
certified Lexus technicians are highly skilled and use only genuine Lexus parts when they repair your car.
We can perform all minor service (oil changes, tire rotations, and more) without you having to make the drive to Lubbock, just as if you were at the dealership. We record all of the service work we do in the national Lexus database so it stays with your vehicle service records.
Our 45-foot service trailer is equipped with:

A full-service lift.
An area for tools and parts.
Wi-Fi hotspot so our mechanics can communicate with both Lexus USA and with Alderson Lexus back in Lubbock.
Air conditioning and heating so while we are working on your vehicle and finishing paperwork, you are protected from the elements.
THIS IS LEXUS SERVICE, REINVENTED.

Our mobile service trailer comes to Midland once a week, and we'd be glad to set up an appointment. Typically the trailer is parked in the Market Street parking lot for the day, which means that Alderson Lexus is now just around the corner for Lexus owners in Midland. 
Give us a call at 806-763-8045, ext. 1 to schedule an appointment. Major maintenance at 30k, 60k, and 90k miles still needs to be performed at the dealership because there is so much more involved with a major maintenance.
However, any maintenance that falls at 5k, 10k, 15k, 20k, 25k, 35k, 40k, 45k, 50k, 55k, 65k, 70k, 75k, 80k, 85k, 95k, 100k can be performed on the mobile trailer.
Our goal is to ALWAYS be your convenient Lexus service center, whether you come to us or we come to you. This is just one more way Alderson strives to be the leading luxury car dealership in West Texas.
WATCH THIS VIDEO TO LEARN MORE
. Just call us and ask when we will be back in Midland. We will be happy to help you set up an appointment.